Revel POS manual
Revel Lite Manual – Revel Systems Help Site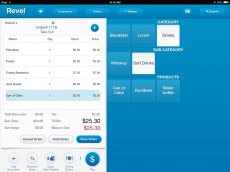 Overview
Revel lite is the lightweight version of Revel. It does not include as many features and reports found in the full version of Revel. However, this is ideal for smaller establishments who do not plan on taking advantages of the many features Revel has to offer and would like to cut costs on software as Revel lite does not nearly cost as much. Specific features or reports may be activated for a small fee.
Revel lite will still include the full range of support, software upgrades, and hardware as the full version.
Revel Lite is only available for Quick Service or Retail.
Management Console
Within the Management Console, Revel Lite includes the following tabs:
Overview Tab - Overview
Reports Tab – Sales Summary, Hourly Sales, Product Mix, Order History, Payment Summary, Discount & Voids, Payouts & Payins, Tax Report, Till Report
Products Tab* – Products, Custom Menu, Upsell Combos, Product Groups, Modifiers, Classes, Discounts, Taxes
Employees Tab – Employees, Roles, Role Permissions
Settings – Basic POS Settings, Receipts, Payments, Timetables, Idle Animation Sets, QuickBooks (purchased separately), Revenue Centers
*The ability to automatically generate barcodes and usage of excel product import is available for product creation.
There may be additional features not included within each tab though available. For example in Basic POS Settings, there will normally be the ability to set an auto logout. There are links below that show additional settings not available in Revel Lite. However, every setting available for receipts will be available in Revel Lite.
Revel Lite comes in either Quick Service or Retail. There is no Table Service version of Revel Lite. Most of the basic features and functions are included such as: manual discounts, item manage mode, call names, tills, and more. However specific features such as service fees, or prompt for call name are not available.
How to Acquire Additional Features
With Revel Lite, users may pay for specific add-ons or reports to be enabled. This list may change at any time to include or exclude features listed. This is useful for clients who only need specific features without having to pay for the whole package.
Please contact your Sales rep for additional information.
Additional Add-ons
Schedules tab
Tax Tables
Product Recipes/Ingredients
Loyalty Program
Gift Card
Inventory
Catering feature
CRM – Customer Relationship Management